Targeteers Archery Pro Shop has been a family owned, three generational operated business since 1957. 2020 marks Robert Jr.'s 50th year in the archery business. Robert purchased the business from his father back in the 1990's. The same values that made our business successful in decades past still remains. The highest standards in customer service and providing expertise to all who come!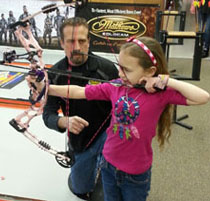 Robert Jr., has since been named Hoyt and Mathew's top dealer award for multiple years, and is an industry leader in innovation, service, expertise, and sales. He is an USA Archery Level 3 – NTS Certified instructor, and has helped thousands follow their archery dreams through his expertise in hunting and target shooting. In his youth, Rob has attained many distinguished awards and recognition for his expertise and skill on the range and in the woods.
Our Pro Shop has been named Top 50 Hoyt Dealer for many years, and we are an authorized North Jersey Hoyt Dealer. Our Pro Shop has been named Matthews' Top 100 Dealer Awards for many years, and we are North Jersey's only authorized Matthew's dealer for many years.
Our fully stocked show room, and air conditioned indoor range at 27 yards is an archer's dream. We offer lessons, leagues, specialty shoots, summer camp, and many youth programs. Our staff are hunting and target experts.
All of our instructors are seasoned professionals. Targeteers has become Archery Business Magazine's East Coast Dealer of the year.